Calisthenics, a natural movement exercise system, utilized by warriors, healers and athletes since times immemorial ­experienced unprecedented rejuvenation during the dawn of the new millennium. Exploding from NYC parks with Hip Hop sensibilities, yet based on classical strength training protocols of reps and sets these new urban bar masters effortlessly changed the collective consciousness of the world.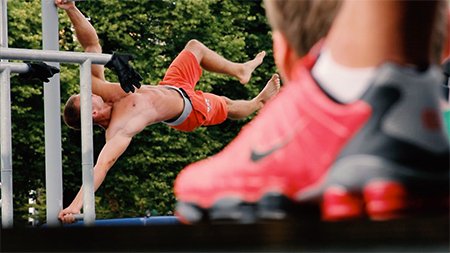 Fueled by the rise of social media, extreme calisthenics or "street workout" spread rapidly across the globe. It took hold wherever the disenfranchised devoured all aspects of American youth culture especially in Eastern Europe where the focus on body-weight and movement visually echoed Soviet style military exercises. Leagues were formed. Styles evolved. And a distinct divide developed between the old school originators of the movement and the new school practitioners of the sport.
Raise Up:­ The World is Our Gym keenly documents the transformation of this vibrant subculture from its NYC beginnings to international competitions. Along the way we learn, no matter which way the branches of the tree grows, it's strength remains rooted in social awareness, community building and youth empowerment.